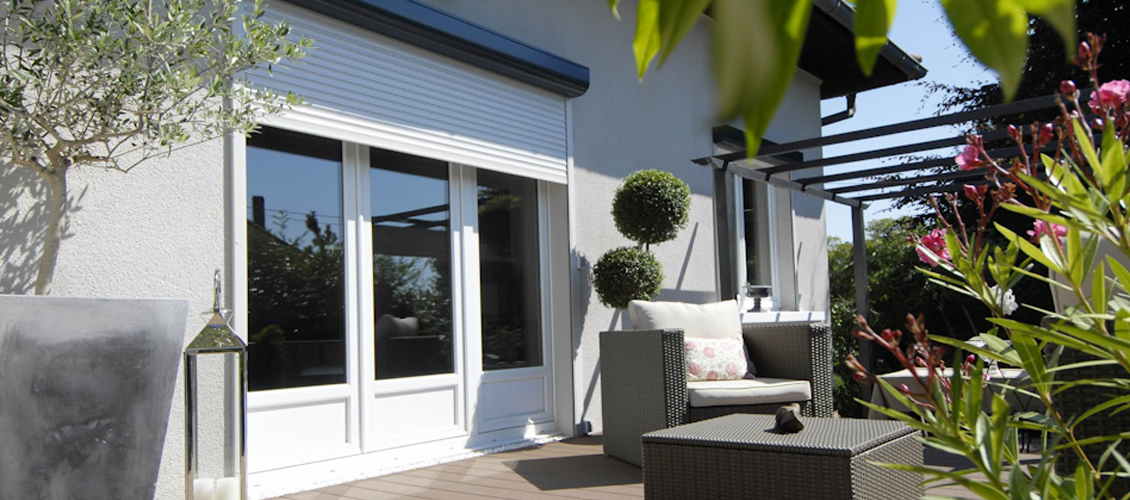 For a new construction, it is best to integrate shutters in the specifications and provide the necessary space above the windows. In case of renovation, we can also offer you a custom-made solution that will increase your living comfort.
In our range, you will find different types: built-in, stacked and monobloc. You can choose between PVC or aluminum slats, finished to match your choice of doors and windows, whether in a standard color or painted in another RAL color.
Moreover, the shutters benefit from exceptional performance in terms of thermal insulation, offering you comfort and savings in winter, as well as coolness and shade in summer.
Your security is assured, thanks to their anti-burglary system.
Ideal for renovation
Particularly appreciated in renovation projects where no space is available for a roller shutter, external boxes also add an architectural design dimension to the facades of new buildings.
Highly compact thanks to a perfect roll-up: discreet from the outside
from the outside, the box does not encroach on the glazing and lets the light in.
A box of only 13.5 cm for a 1.60 m high window!
The final slat is practically invisible when the curtain is raised.
Possibility of a mosquito net integrated in the box.
Equipped with the projection, it also fulfills the role of solar protection in summer to protect itself effectively from the sun, while allowing the ventilation of the rooms.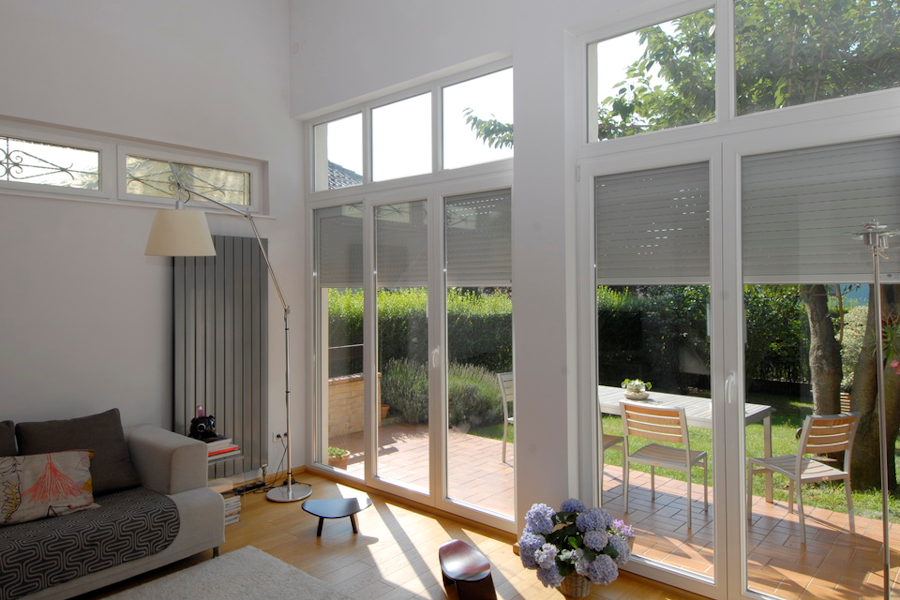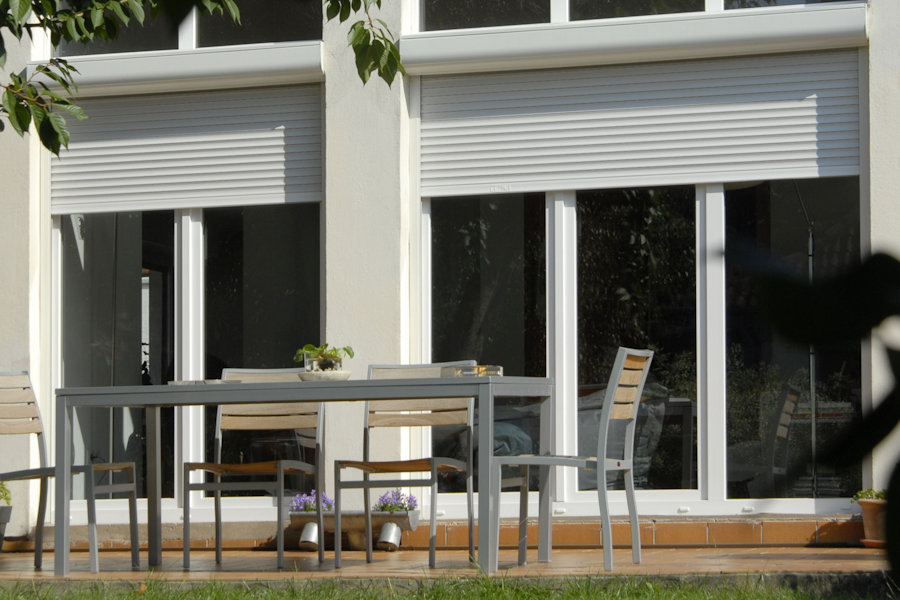 Technical characteristics
Compactness, perfect roll-up, security.
3 sizes of safe available.
Automatic locks as standard, real burglary retardants. To avoid scratches on the slats, these locks are equipped with felt.
Thermal aluminum slats as an option.
Exclusive separation system for large openings up to 4 m wide.
Manual projection for motorized shutters in option.Wide range of maneuvers and automations
For exterior insulation (new or renovation), opt for the plastered shutter: a box with an inspection hatch on the underside and an integrated plastering plate for a finishing touch and discreet integration.
Installed in front of the joinery, it constitutes a real thermal and phonic shield, and preserves the insulating qualities of the window.
Ideal for construction.

Completely integrated into the frame, the integrated roller shutters are invisible in the raised position and preserve maximum glazing clarity. Thanks to the exclusive separation system, they protect your large windows and offer you the security you need!
TRADI, for renovation
Can be integrated into existing woodwork boxes. Its robust fixing system ensures perfect shutter stability. It is suitable for large windows up to 4 meters wide.TRADI VEO, the self-supporting shutter without offset
Quick installation thanks to its pre-mounted brackets and curtain, integral with the shaft.
Particularly suitable for verandas.
Very compact, it fits perfectly into wood-frame constructions and thin walls.TRADI CT: tunnel box for new construction
Integrates directly into the masonry.
Light, rigid, easy to install.
3 performance levels, from standard to reinforced thermal version
High density polystyrene box for better insulation: Uc up to 0.40/m²K
Suitable for all types of construction thanks to a choice of 4 facings:
plaster / fibragglo / brick / concrete.
Up to 3600mm wide under Technical Notice.
If your house is already equipped with a tunnel box, the TRADI custom-made roller shutter can be easily adapted to all tunnel boxes on the market, thanks to its telescopic end cap.
Do you know the stand-alone version?

IDEAL FOR A DAMAGE-FREE RENOVATION
Wireless, easy to install and equipped with the latest technology, this low-energy motorized shutter uses only the energy strictly necessary.
The autonomous solar motorization does not require a power supply or electrical wiring of the control points.
Autonomous for 15 days without sunshine (at a rate of one up/down cycle per day), the shutter operates in all weathers, in temperatures ranging from -20°C to +70°C, throughout France.
Compatible with Deco, Paco and Quarto VE² external boxes, only in 37 mm aluminum or PVC slats.
Operating principle
1/ The solar radiation is captured by the solar panel
2/ The solar panel charges the battery with this energy
3/ The battery powers the motor
4/ The motor is activated by a radio control to operate the shutter
The motorization kit is composed of :
A SOMFY Oximo 40 Wirefree RTS motor equipped with the latest technologies
with the latest technologies: stop on obstacle, lock in case of freezing, automatic adjustment
automatic adjustment of the limit switches.
A battery delivered integrated in the box. The size of the box and
and the optimal roll-up are preserved.
A thin, discreet and efficient photovoltaic panel.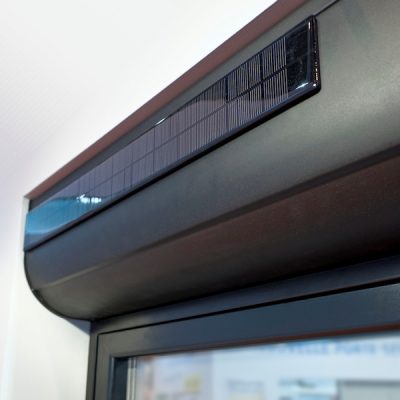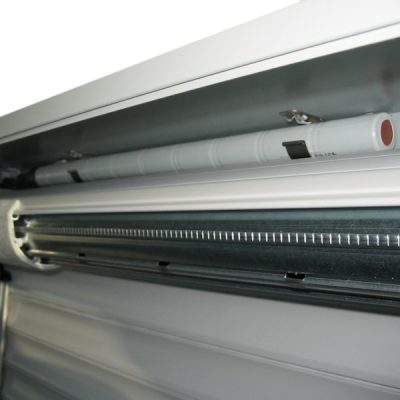 With our shutters, enter the world of quality joinery.
Our shutters are guaranteed

7

years
Want to know if your project is feasible ?
Leave us your contact information and we will call you back within 24 hours to make an appointment with one of our technicians for a free diagnosis.
09.67.34.72.57